Accommodation, resident services and visiting
Communal areas
At Dalvey House we are able to offer residents the benefit of a light and airy comfortably furnished day room, with a quiet seating area and large screen television with Freeview and Sky channels.
There is also a separate dining room where residents can enjoy their meals in a relaxing environment. We have two bathrooms with hoist baths and there are mobile hoists for rooms if required. There is also a fully tiled shower/wet room and the building is fitted throughout with central heating and double-glazing. We also have a four person passenger lift which can accommodate wheelchairs.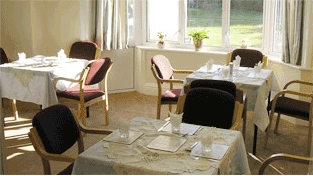 Bedrooms
All our bedrooms meet with the CQC standards and are single.
Emergency call points are situated in each bedroom, all bathrooms and communal rooms. All bedrooms have locks fitted for privacy with television points and adequate power points as well as private phone points for personal telephone installation if required. Each bedroom has a locked space for personal and valuable items as well as window restrictors.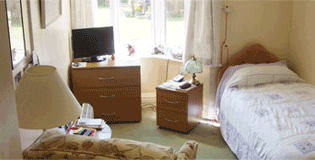 Garden
At the front of the home we have a large area for parking with a secure garden for residents to enjoy at the rear.
There is a large level patio area with gentle slopes leading off it for safer walking and wheelchairs providing access to the whole garden. A lovely summer house, offering shade in the summer, is located on the lawn and garden furniture is also available. When the weather is warm residents can have meals and drinks in the garden.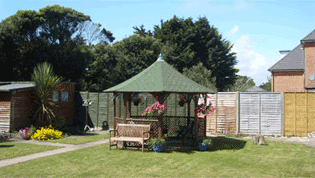 Domiciliary
We offer the following services for all residents:
Chiropody and manicures
Hairdressing
Eye tests annually and on request
Chair scales with digital functions
Full prescription and medication dispensing service
Free wireless broadband connection
Newspapers delivered each day (at extra cost)
Shopping service
All machine washable clothes will be laundered provided that they can also be tumble-dried
A regular cleaner maintains a high standard of cleanliness throughout the home
Escort duties
Insurance resident's possessions is to the value of £100 only
A ledger and money for small amounts of personal spending for chiropody, hairdressing,etc, can be stored in the office safe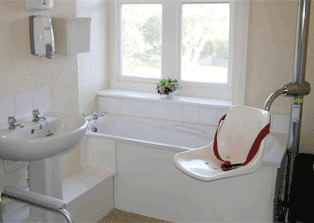 bathroom with hoist baths
Religion
We are happy to welcome all religious denominations and if you should have any specific religious requirements, please do not hesitate to inform us.
Currently we have visits from representatives of the Church of England and the Roman Catholic Church a monthly basis but visits from other denominations can be arranged.
Holy Communion can be received monthly and on a required basis.
Visitors
There are no set visiting hours, so friends and family are welcome at any time, we simply ask that all visitors try to avoid peak times and visiting during meal times or after 9.00pm in the evening.